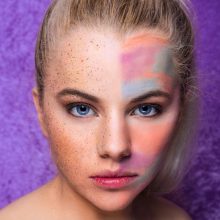 Claire's many years of experience in the wedding sector, working to tight deadlines, with nervous subjects, often in less than ideal circumstances has won her a strong following amongst professional photographers in the fashion and glamour fields.
Her natural gift for taking a creative brief and producing stunning hairstyles and flawless makeup quickly, coupled with her ability to plan a succession of different looks with minimal changeover time has meant she is completing an increasing number of shoots in these specialised fields.
Whether you are seeking a dramatic look with dark, heavy make-up and over styled hair or a more natural look with subdued pastel tones, gentle make up and soft flowing hair styles, fashion makeup artist Claire has the experience to deliver.
Claire is continually exploring new opportunities, and offers services throughout all magazine / editorial work, TV and Film and Fashion and Catwalk.
Please enquire at clairemurray@makeup-byclaire.co.uk for further information regarding commercial work.
Makeup Application at your home or at the photographers Studio – 60 mins£30, Airbrush Makeup £40
If you wish me to stay longer and change your makeup – £25 per hour
For more information on services and prices, please contact Claire directly.